Hey everyone! Thank you so much for being here + supporting this little dream of mine! I created Simply Lovely Boutique not just because of my love for fashion + shopping, but because as a teacher I am always looking for appropriate yet fashionable clothing to wear to school. If you are anything like me, I try to find pieces that I can wear both to work and outside of work! At Simply Lovely Boutique we strive to create a shopping experience that can bring you modest + comfortable clothing that is fashionable & on trend that you can wear from work to happy hour to all the weekend festivities. We hope that Simply Lovely Boutique can bring you clothing items that make you feel good + look good!


Shaunda is the face of Simply Lovely Boutique and does most of the work around here but you will also find Jared helping out behind the scenes. Together, we make up the Simply Lovely team and love to serve you in so many ways - from picking out the best clothing pieces to styling them for you over on Instagram! When we aren't packing orders and working our 9-5 jobs, we love to travel, try out new restaurants and go on daily walks with our pup, Scout!
Simply Lovely Boutique - your one stop shop for shopping + all the styling tips! Thank you so much for being here & supporting our little shop!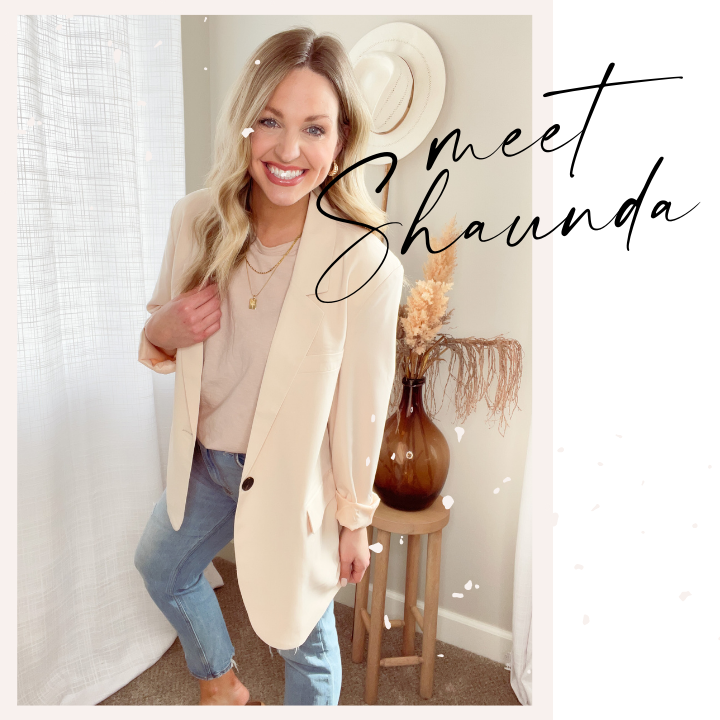 Hey everyone! I wanted to share a little about me + why it means so much that you are shopping with us! My name is Shaunda Wasik and I am the owner + operator of Simply Lovely Boutique. I am a 4th grade teacher from Lakeville, MN who just happens to also have a love for fashion + style. If you can't find me in my classroom or making teaching resources, I am usually shopping online, browsing new fashion finds or walking our pup, Scout.
Here at Simply Lovely Boutique, we strive to serve you in so many ways! Not only do we love to bring you adorable + on trend pieces for your own wardrobe, but we also love to share how to style and give you personalized recommendations over on Instagram! We pride ourselves in great customer service, fast shipping + bringing you quality products at an affordable price.
Shop + Follow Along
Ready to add some new + quality pieces to your wardrobe?! You are in the right place! We post weekly new arrivals every Saturday. Make sure you follow along with us on Instagram to stay updated with new arrivals each week!
LET'S SHOP